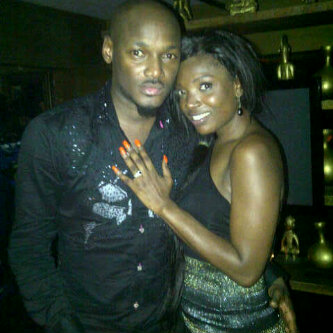 "Every girl in the world has a man who has disvirgined her. Now, looking back at the boy who took my virginity, trust and believe if he went on to be a star, I would be back with him instantly, but mine did not so I cut him loose.
Annie Macaulay is a different story. She was never able to let go of the small fame that came with dating Tuface Idibia so she swallowed so much disrespect, cheating, his other baby mamas and girlfriends while she stood on the sidelines not even being publicly claimed in the beginning. She was just one of his side chicks in the mix of all the drama. Girls like Annie are what paved the way for all these girls to knowingly enter into bad relationships and
STAY IN BAD RELATIONSHITS
.
Annie forced her relationship with Tuface. They were not dating and she claims there was no intimacy for 5 years and he was still with her. Then how did she manage to have 11 abortions without se*x? She kept going back to have unprotected s*e*x then lying about it and getting rid of the to-be child. The pressure from fans of being called "Tuface's girlfriend" led her to paint a picture to the outside world that is different from the truth.
People actually believe she kept herself for him, hence she is an ambassador for girls lying to men, tricking and trapping them with pregnancy and staying quiet while they are being cheated on in public all while losing their dignity & self respect to stay in these toxic 'relationshits'. Just look at her prodigy Tania Omotayo that faced countless humiliating affairs of women claiming to be Whizkid's girlfriends but Annie convinced her to stay each time he was caught cheating. She will fill your head by telling you to manage it a few years longer and try to have some children in the process to seal the deal. Annie even tried to force Iyanya & mummy Freda.
If a woman had other options, she would never deal with everything Tuface did to her. A man is f*&%ing you raw but didn't want you as his girlfriend, didn't want to have kids with you yet you forced your way? Tuface has no taste in women and he is the kind of person that can disengage from drama, he won't chase, he will simply shut you out so even when Tuface was caught cheating, Annie would run to him to apologize for the accusation. I was her neighbour once, I saw this first hand. Tuface never gave her enough money but she would pretend for the fans like she is a housewife of Lekki. He gave her $4000 to go to America to birth her child and move on because he wasn't ready to be a parent but she kept coming back to him ready for raw sex and which man would refuse a babe that is willing to wait on him hand and foot as if it is worship?
Annie Macaulay f&%$ed the universe then married Tuface because she wanted fame and connections to be on the social scene. She pursued God fathers like Ayiri Emami, but she had exhausted all her favours begging him and his friends for money every chance she got. Tuface used to live off her runs money from these popsis but let's leave that gist for another day. My point was just that Annie was the example for Nigerian women entering bad relationships just for fame or association.
Culled from:
Naijagistlive